Local Company on The Profit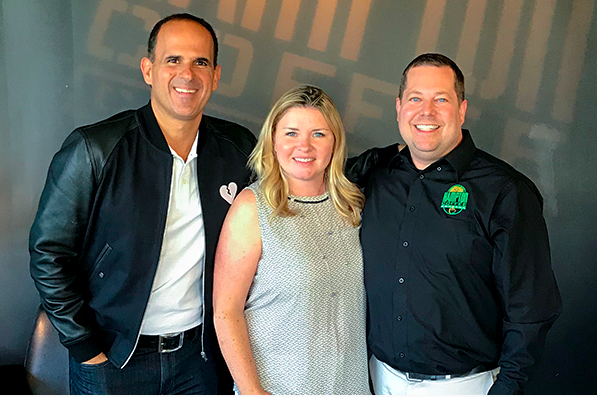 "My name is Marcus Lemonis and I fix failing businesses. I make the tough decisions. I back them up spending my own money. It's not always pretty, but this is business. I do it to save jobs, and I do it to make money. This is The Profit."
Hampton Coffee Company, a business located in Westhampton Beach and other locations on the East End, opened in 1994. Their goal is to make sure all customers have the best experience possible, and pride themselves on their consistency and top-notch coffee.
Jason Belkin, one of the co-owners of Hampton Coffee Company, has been a fan of Marcus Lemonis for a long time. He reached out to Marcus on social media and corresponded with him. They eventually met at a franchise expo in New York city.
About a year after Marcus and James met at the expo, Marcus called Hampton Coffee and told them that he'd like to do business.
Marcus was working on an episode of The Profit where he took the struggling business Corey's NYC Bagel Deli and completely transformed them into to a successful business. While Marcus already had ties with a coffee company on the west coast, he wanted to imply New York based products into the business.
He reached out to Hampton Coffee Company and they began work for the show. Hampton Coffee played into this episode by creating a blend of Coffee called the Corey Loves Laurie blend. With the creation of this blend Corey's NYC Bagel Deli became a wholesale customer of Hampton Coffee.
They order the locally roasted coffee and brew it fresh everyday at their cafes in Chicago. After filming the show, Hampton Coffee sent employees to Chicago to install top of the line equipment and do training with all NYC Bagel Deli staff.  Public relations and marketing manager, Edythe Collins, said,"It was a fulfilling experience, and it's cool to know that our coffee is being enjoyed daily all the way in Chicago."
After the filming of the show all the Hampton Coffee employees were very excited. Collins said, "For all of us at Hampton Coffee, it was so exciting! We all had out DVRs and alarms set to watch the episode when it aired. It was the season premiere! Just seeing our logo and product on national television was a rewarding experience."
Hampton Coffee Company doesn't have any plans yet but they hope to continue to work with Marcus Lemonis in the future.