Teamwork Makes the Dream Work
Hang on for a minute...we're trying to find some more stories you might like.
Sophomores Jackie Amato and Ashley Steedman are racing their way to breakout cross country seasons.
Jackie and Ashley have had good years in the past, but this season is looking to be the most promising. Last year, both Jackie and Ashley's PRs (personal records) were run at the Section 11 Championships. Jackie finished with a 22:09 5K and Ashley finished just behind her with a 22:33 5K in the varsity three mile race.
Since then, both girls have vastly improved. This is mainly a result of their teamwork.
Working together as a unit has benefitted Jackie and Ashley in all aspects of cross country. This season, the girls have two common goals: breaking 21 minutes in the 5k and going to states. Jackie and Ashley truly push each other to be better in everything they do.
"Running with Jackie helps me improve because we work together whether it's an interval workout, distance run or race; and we always push each other to run faster," said Ashley.  
This season, again, both girls have ran their fastest times in the same race. So far, Jackie's PR is 21:17 and Ashley's is 21:25. Both girls ran these times in the Jim Smith invitational.
While the girls are great runners, they are even better teammates. Jackie and Ashley are constantly pushing their teammates to the next level and always cheering everyone on. "As teammates, they set the best example that anyone could set for the younger kids," said teammate Julia Smith.  
Good luck to the girls in accomplishing their goals this season!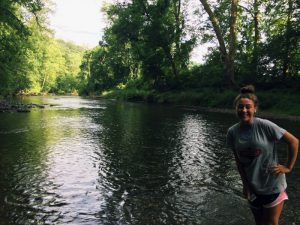 Maureen Duffy, Staff Writer
Maureen Duffy, a sophomore at WHBHS, has lived in East Quogue since her first birthday. She plays varsity lacrosse, cross country and winter track. Since...